PhotoRejuvenation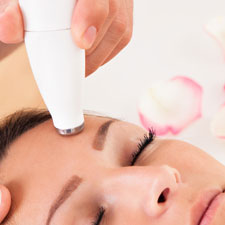 With age and exposure to the environment, skin texture roughens, hyperpigmentation spots appear and lines become more noticeable. Radiancy MicroPhototherapy treatments gently rejuvenate your skin. This cutting edge technology, pulses of light and heat energy (LHE), penetrate deep into the skin to promote a natural healing response at a cellular level, stimulating new collagen growth.
The benefits:
Softens fine lines
Homogenizes skin tone, giving a more creamy appearance
Increases elasticity
Decreases pore size
Improves skin texture
Enhances absorption of serums and creams
Non-abrasive with no downtime
PhotoRejuvenation Facial ~ Cleansing, exfoliation with ultrasound, extractions, MicroPhototherapy, massage, calming mask with ultrasound.
75 minutes $132
A series of 8 weekly treatments is highly recommended for maximum results.
8 treatments 45 minutes each $950
Sign up here!
Interact with us and read reviews!
Links
Our Partners
Hours of Operation:
Monday: 11:30 - 7
Tuesday: Closed
Wednesday: 9 - 5
Thursday: 9 - 5
Friday: 9 - 5
Saturday: 9 - 3

1st Sat of month