Oncology Esthetic Treatments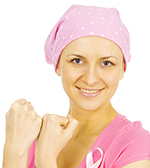 It seems most of us are touched by cancer in some way, either by someone we know or personally. Whether newly diagnosed with cancer, undergoing treatment or in recovery, any person could benefit from proper skin care treatments, touch therapy and a respite from thinking about their cancer.
As a certified Oncology Esthetician, Lisa understands the ravages of chemotherapy and radiation on the skin, including extreme dryness, rashes, itchiness, peeling, redness, etc. Not only is this very uncomfortable, it can also have an effect on self esteem, affecting relationships, work and emotional and physical healing.
With such compromised and fragile skin, it is so important to seek an educated and properly trained Esthetician that can provide safe treatments with appropriate skin care products. Lisa uses Hale & Hush skin care line, specifically designed to help heal and restore damaged skin.
Not only is a clean, safe and private space provided at Advanced Skincare, each person is educated on how to care for their skin and is treated with respect and compassion.
Healing Touch Facial ~ A completely personalized hydrating and soothing treatment. This will be just for the needs of the cancer patient, depending on the stage of treatment they are currently undergoing and what the skin is needing.
$86
Hand, Foot and Scalp Treatment ~ A perfect treatment for those undergoing treatment where there is less ability to work on the face and neck.
$70
Caregiver's Treat ~ This is a wonderful facial for the cancer patient's caregiver. A thorough cleansing, exfoliation, massage of face, neck and shoulders. A customized mask finishes with ultrasound to penetrate and gently lift.
$86
Sign up here!
Interact with us and read reviews!
Links
Our Partners
Hours of Operation:
Monday: 11:30 - 7
Tuesday: Closed
Wednesday: 9 - 5
Thursday: 9 - 5
Friday: 9 - 5
Saturday: 9 - 3

1st Sat of month