Dermaplaning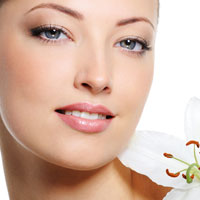 Dermaplaning, or epidermal leveling, is a gentle and relaxing form of manual exfoliation of the face. The tool used is a very safe medical blade that painlessly removes the outer most layers of dead skin cells as well as all of the Vellus hair, or peach fuzz. Your immediate result is fresh, bright, glowing skin that is completely smooth and baby soft and your make-up will look amazing!
By your mid-thirties your skin does not slough off dead skin cells as rapidly as it did in your twenties, and it gets more sluggish with age. You may notice that your skin does not have that glow, or appears sallow, while the surface may feel rough to the touch. This procedure helps speed the skin's cell turnover rate.
This treatment is recommended for all skin types with the exception of those who suffer from acne and is safe and effective for pregnant or nursing women.
How does the hair grow back? Despite popular belief, the hair does not grow back thicker, that is physiologically impossible. The fine facial hair, known as Vellus hair, when shaved or cut, grows back exactly the same way. Dermaplaning can be used to remove coarse facial hair, but keep in mind it will grow back the same way.
This procedure is most effective when enhanced with a light peel or enzyme. This allows for better absorption of any products used afterwards for maximum effect. Dermaplaning can be performed every three to four weeks.
Dermaplane Facial ~ A dermaplaning treatment followed by enzymes or light chemical peel, extractions if needed, ending with a hydrating treatment.
60 minutes $132
Sign up here!
Interact with us and read reviews!
Links
Our Partners
Hours of Operation:
Monday: 11:30 - 7
Tuesday: Closed
Wednesday: 9 - 5
Thursday: 9 - 5
Friday: 9 - 5
Saturday: 9 - 3

1st Sat of month